WE ARE CLOSED SUNDAYS AND MONDAYS PLEASE CHECK BELOW FOR HOURS
Williams' archery is located in the small Pennsylvania town of Edinburg, named after a town in Scotland. The Olde' General Store was built in the pre-Civil War era in 1836. This two-story brick building was the hub of the town of Edinburg, PA. Locals gathered around the potbelly stove and shared the local gossip, news, and exciting events of the day.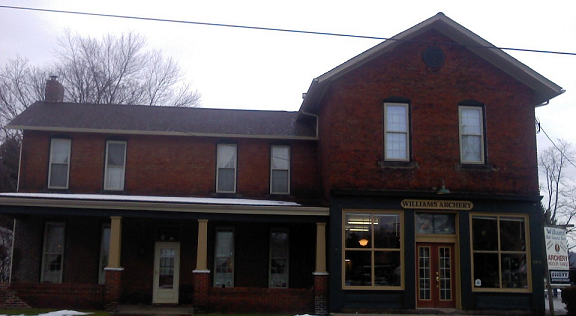 The Store
The old potbelly stove is no more and we have updated the 120 ft long building with electric lights. However, we kept the same relaxed atmosphere of the Olde' General Store. The news of the day and the exciting hunting stories are still shared. Our love of archery is why we opened our store in 1989. We are a complete archery pro-shop and retail store, here to serve all your hunting and competition needs. We invite you to stop in while you're in the area and sit for a spell.
---
Indoor Range

Our 20-yard indoor range, located on the 2nd floor brings the sport indoors with about 100 shooters in our Saturday lessons and weekly leagues. Our indoor league runs from January through the end of March. Whole families shoot side-by-side, with our youngest members starting in the adult league when they can shoot an arrow 20 yards. Archery is one of the few sports that young kids and "seasoned" archers can participate in together, bonding with a common interest.
---
Youth Lessons
We teach kids the sport of archery beginning at age six from January through April. Over the years hundreds of kids have passed through our classes. The excitement begins to build as all ages prepare for the annual Pennsylvania State Archery Association (PSAA) competition every spring in Harrisburg, PA.
---
Our Certifications
We are certified level 2 NASP and US Archery instructors. We teach physical education teachers the National Archery in the Schools Program, introducing archery to kids starting in the 4th grade through competition archery throughout the entire United States. School teams can qualify for state competitions and the annual national tournament held in Louisville, Kentucky.
---
Williams' Archery
5418 Erie Street, Edinburg, PA 16116
724-667-9660
willarchery@comcast.net
Find us on Facebook!
Hours
Monday* CLOSED
Tuesday 11:00 – 7:00
Wednesday 11:00 – 7:00
Thursday 11:00 – 7:00
Friday 11:00 – 5:00
Saturday 10:00 – 5:00
We are CLOSED on Sundays
*